Marker List
The marker list brings up a text list of all of the markers and regions in the project. (Sorry, not time signature markers at the moment). Open this window by going to the View menu and selecting "Show SWS Markerlist".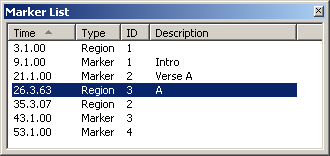 You can right click in this window for options, or alternatively, check out the bottom of the main Edit menu: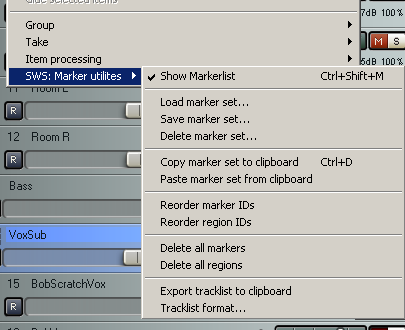 The "official" Reaper forum thread is here.
If you dislike marker clutter, you can save all your markers away into a "set" which can then be recalled later.
Available actions:
SWS: Open marker list Toggle showing the marker list window
SWS: Load marker set
SWS: Save marker set
SWS: Delete marker set
SWS: Copy marker set to clipboard
SWS: Copy markers in time selection to clipboard (relative to selection start)
SWS: Paste marker set from clipboard
SWS: Delete all markers
SWS: Delete all regions
SWS: Export tracklist to clipboard Paste the list of markers to the clipboard, formatted nicely
SWS: Tracklist format Opens a window where you can format the output of the Export tracklist action
SWS: Select next region
SWS: Select previous region